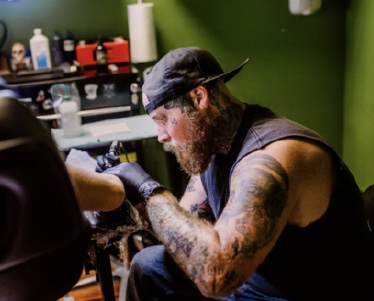 Location
St. Augustine, FL
904-770-7779
Follow
Lovechild of Baby Firefly and Rondo, some say Therion, aka Drew Potts, was born of blood and darkness. They said he would never amount to anything. In his teenage years, he found himself at a crossroad. Does he follow in his mother's footsteps, his father's, or does he make the ultimate sacrifice. Would he be able to turn his back on his blood to pursue his dream of becoming one of the world's greatest tat wizards? The choice for Drew was obvious.
Emerging from the depths of the Netherworld, on his horse of steel, Drew made his debut on the tattoo scene. Since that fateful day in 2005, his tormented soul poured everything he was, into his newfound mistress. He was obsessed, to the point he was able to do nothing except, eat, sleep, and shit tattooing. Everything he laid his eyes upon was a potential sick ass tattoo design, and every person he came in contact with was a potential canvas. He would spend countless hours drawing, studying, trying to forget all he had lost by turning against his blood. He replaced memories with the knowledge of crispy outlines and broken spines. In his heart of hearts he just knew that one day he would become a level 10 tat wizard. To Drew, Nothing else mattered.
To be tattooed by Drew, one has to be of pure heart, and mind. They must possess both inner and outer strength. It isn't every day one encounters a person so intense and focused on their craft. Certainty of a desired design is a must, and insures a masterpiece each time. Drew only uses machines that were forged from the heart of a dying star, in order to ensure his tattoos will last for centuries. The tattoos will be solid, clean, they will accompany you not only the remainder of this lifetime, but into the afterlife. Your art will stand the test of time, subsequent lives across all dimensions, and throughout space and time. He has found his technique works best with American traditional and neo-traditional based tattoos with clean bold lines and solid saturated color.
If you want to become a living piece of art by a local legend, please email or call the shop.